Evergrande has officially received a rating of restricted defaulted.
What happens now?
The general default case
Here is what happens when a bond issuer misses a payment ("defaults"). Rules change by jurisdictions, and Chinese regions may have variations, but it is the general consensus:
The issuer is offered a

technical delay

, giving leeway for non-financial issues (computer glitch, payment delay, force majeure…). Past that deadline, the issuer is declared "in default".
This status allows the creditors to claim the whole principal repayment if they bring together

at least 25% of the debtors in agreement

. If the issuer doesn't pay, the creditors

can involve the courts

, and the company falls into receivership (aka the start of the bankruptcy process).
Once in bankruptcy, a judge or

trustee lists all the assets

(cash, receivables, rental income, subsidiaries, patents…), as well as

all the creditors

and their

seniority

(the nature of the credit rights they hold).
The assets are then distributed to the creditors, by following priority rules established by law:

Owners of secured debt are entitled to seize the collateral of their debt.
Unsecured lenders, like the many Chinese individuals who have pre-paid their apartments, enter the long list of creditors. Other unsecured creditors also include employees, contractors, and shareholders.
Generally, bankruptcy attorneys are paid first, then employees, then unsecured lenders (by order of seniority). Contracts and providers and all the general unsecured lenders come after. Shareholders come last.
Generally speaking,

secured lenders may get a good recovery

on their loans.

Unsecured not so much

. Shareholders rarely get anything.

The company may negotiate with creditors and emerge from bankruptcy with a new business model. Creditors often end up with a majority ownership of the new company, at the expense of existing shareholders who get heavily diluted.
China's Property Sector
The entire property sector in China is under pressure. This sector has seen a significant growth slowdown in 2020 and 2021.
China Evergrande Group ("Evergrande") and Kaisa Group Holdings LTD ("Kaisa") were both downgraded to restricted default by Fitch Ratings this week. China Evergrande Group missed dollar bond interest payments on December 6, 2021, and Kaisa Group Holdings failed to repay a $400 million dollar bond on December 7, 2021. China Aoyuan Group Ltd. Has also joined the list developers warning they may be unable to meet upcoming financial obligations.
China Evergrande Group
The non-payment happened for two bonds of a China Evergrande Group subsidiary called Tianjii or Scenery Journey Ltd (the $645 m Nov 6, 2022, 13% senior unsecured XS1903671938 and the $590 m, Nov 6, 2022, 13.75% senior unsecured XS1903671854). Fitch Ratings has cut the developer to restricted default after the

failure to meet $82.5 million worth of coupon payments

after a grace period expired on Monday, December 6, 2021.
Because the subsidiary was bought by Evergrande's debt, the subsidiary's default

triggers also a default on Evergrande's notes

.
If 25% of the Evergrande bondholders agree, they can force the company to pay all its principal, which would force the company into bankruptcy.
Evergrande's

secured creditors will likely own the unfinished buildings they were funding

, all around the country. They are not worth much, unless a contractor finishes their construction.
So it is likely that secured creditors are

better off restructuring the debt

and forcing Evergrande to complete the building, than taking them unfinished.
What do the unsecured debtors get? Evergrande defaulted, so it had no cash left. It had subsidiaries in other industries (car-making, sports teams…), as well as real estate (undeveloped land…). These assets will be liquidated, probably at a low price (the potential buyers were waiting for this fire sale).
Fitch actually indicates that

these unrelated assets are not worth much

. Companies (auto, banks..) have debt to pay off first or are unprofitable. They will be hard to sell. Future rental income is heavily discounted.
So there will never be enough cash for the unsecured creditors. The individuals who prepaid for apartments will eventually get their apartments delivered IF the negotiations conclude and Evergrande delivers. Building contractors will refuse to work unless they are pre-paid. Everybody else gets in a queue.
Evergrande shares fell 5.5% in Hong Kong, setting its second record closing low of the week.
China Evergrande Group Equity Price (3333 HK) Source: Bloomberg
Kaisa Group Holdings LTD
Kaisa is the third-largest issuer of dollar notes among Chinese developers, with $11.6 billion outstanding. Together, Kaisa and Evergrande account for about 15% of outstanding dollar bonds sold by Chinese developers. Kaisa Group told investors it expects to finalize a preliminary restructuring proposal as early as next week, REDD reported on December 9, 2021. Kaisa's shares were suspended in Hong Kong amid growing concern over the Chinese developer's ability to service its debts, as distress in the nation's property sector spreads. It's the company's second halt in just over a month. Kaisa Capital Investment Holdings Ltd.'s shares plunged as much as 17% in Hong Kong.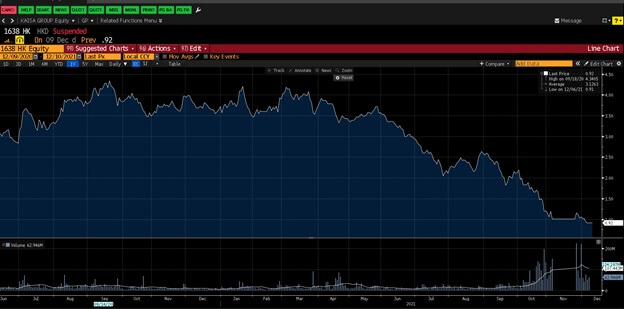 Kaisa Group Holdings LTD Equity Price (1638 HK) Source: Bloomberg
The Big Picture
Fitch Ratings has cut Evergrande to "restricted default" over its failure to make two coupon payments by the end of a grace period on Monday, a move that may trigger cross defaults on the developer's $19.2 billion of dollar debt, the most among Chinese developers. The Communist Party's reluctance to bail out Evergrande sends a clear signal that massive debt build-ups that threaten financial stability will not be tolerated.
Xi Jinping's government still faces a lot of challenges as it tries to maintain calm in the country's $13 trillion credit market. The People's Bank of China ("PBOC") reiterated on Friday that risks posed to the economy by Evergrande's debt crisis can be contained, citing the developer's "own poor management" and "reckless expansion" for the problems it faces.
Authorities have acted to limit the fallout from Evergrande's crisis. The PBOC said on Monday it would lower the amount of cash banks need to hold in reserve and rolled out measures to ensure higher-rated developers retain access to funding. The Politburo signaled looser curbs on real estate. This has soothed some investor concerns and injected some confidence into the market. That's helped stabilize the nation's financial markets, with the CSI 300 Index of stocks heading for its best three-day gain since May. Chinese high-yield dollar bonds have also risen for three straight days.
The State's Influence.
What happens next rests with China's Communist Party, including authorities from Evergrande's home province of Guangdong. So far, Beijing has made it clear it has no intention of bailing out Evergrande, which has over $300 billion in liabilities as of June 30, 2021.
People's Bank of China Governor Yi Gang said Thursday, December 9, 2021, that China Evergrande Group will be dealt with in a market-oriented way, "The rights and interests of creditors and shareholders will be fully respected in accordance to their legal seniority." This was a pre-recorded video message to a top-level seminar about Hong Kong's future as an international financial center.
Guangdong said last week it would dispatch a team to Evergrande to ensure "normal" operations. The developer's new seven-member risk committee includes senior managers from Guangdong state-owned enterprises and China Cinda Asset Management Co., the nation's largest bad debt manager.
References