Evergrande is China's second largest real estate. It is expected to default on bond payments in the coming days.
Even with 'only' $300 bn of debt, the developer is emblematic of the entire $62 trillion Chinese real estate industry.
And the outlook isn't great.
Evergrande
Most financial analysts aren't optimistic about Evergrande.
Evergrande is a sprawling conglomerate ranging from electric cars to wealth management, as well as food and drink manufacturing. Forbes ranks its founder's wealth at $10bn (despite the recent stock fall). 
It aggressively expanded into real estate, which is now its core activity.
Most of the firm's cash comes from apartments pre-sold to individual buyers. 1.6 million individuals are now waiting for delivery from 1,300 construction projects across the country.
Last year, the government started to reduce the growth of the property market by restricting developer's access to financial markets.
The company initially started to sell its new apartments at a discount. That could not have been a long term solution. Lawsuits from home buyers waiting for apartment completion pilled up. There are billions of dollars of outstanding bills owed to contractors. Multiple construction projects have been halted.
Evergrande then sold non-core businesses, but the proceeds have been insufficient – buyers are waiting for the firesale.
In August, the government called the management to a meeting. Evergrande was told to put its debt in order. Meanwhile, lenders were told to reduce lending to the company.
On September 14th, Evergrande said it hired restructuring experts to "explore all feasible solutions". It owes money to 171 domestic bank and 121 international firms.
The largest asset class in the world
ZeroHedge has a solid article (below) on Evergrande' s and the sector's situation. In a few words:
Most of the banks lending money to Evergrande are Chinese, aka state-owned, and can be patched-up by the government. They would be fine.
But the real estate industry overall is too big. Goldman estimates the Chinese real estate sector at $62 trillion and 29% of the country's GDP . By comparison the US real estate is worth vs $34 tn and represents 6.2% in the US GDP.
The segment also represents 62% of household wealth. It is the largest asset class in the world.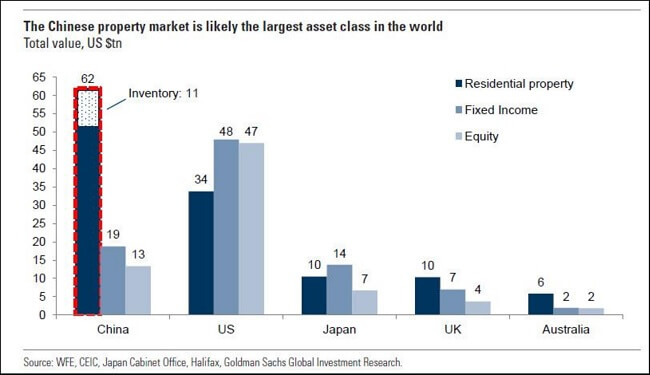 The likely default
Moelis, the investment bank, was owed an interest payment in late September. The interests didn't show up. The creditor has a technical grace period of one month, bringing the true deadline to late October. Kirkland & Ellis, the law firm representing Moelis is complaining of the creditor's lack of engagement, an ominous sign.
Unfortunately, a $260m bond matured last week (10/3). It was issued by Jumbo Fortune Enterprises, a lender who repackaged Evergrande' s debt with its guarantee. The money also didn't show up.
With only 5 days of grace for principals, it is very likely that the firm will be pushed into automatic default after the week-end, if it doesn't announce a default before then.
A contagion to the entire real estate sector
The main risk isn't actually Evergrande. It is that of a contagion to the entire Chinese real estate sector.
This industry has seen a significant growth slowdown last year and this first semester.
Goldman envisions three scenarii of contagion, with an impact on the overall Chinese economy of 1.5% to 4% for 2022 and eventually a contraction of the economy the year after. A repricing of  international markets would ensue.
How likely is that contagion to the Chinese real estate? It is already well engaged. The China Real Estate Information Corp indicates that
90% of the top 100 developers' sales declined in September

, by an average of 36% from a year ago and 17.7% from the year before.
This impacts several geographical locations.
These numbers are worse than the assumptions in Goldman's worse scenario.
Is the bubble bursting?
Chinese individuals are prevented from investing abroad. With a limited stock market, real estate has been the only way to invest for decades. Chinese retail has fueled a growth of property constructions, 90 million of which are laying empty. It's a bubble.
Other Chinese developer shares have tanked since Evergrande started to have cash issues, even some in much better financial situations than Evergrande.
If/once Evergrande defaults, property values will fall, deteriorating the balance sheets of all the other developers. This will start a vicious cycle; you can expect a wave of defaults.
As Fantasia Holdings Group (a smaller developer) defaulted this week, Evergrande' s bond prices sank 80% and its HK share listing was suspended.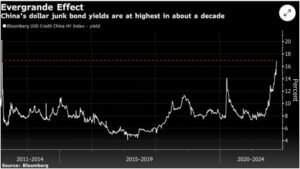 Meanwhile, the junk yield of the entire Chinese economy soared further to 17.5%.
Professionals see Chinese real estate developers facing a 'triple whammy' of poor September sales, access restriction  to offshore funding, and a limited onshore funding capacity (the onshore bond market is $12tn in size).
The rise in yields and the limited liquidity will make it impossible for developers to refinance, triggering further defaults.
The only solution for developers would be a firesale of properties and land, which would snowball the sector further down.
A government bail-out?
The Chinese government would be the last rescue, but it is surprisingly silent.
The central authorities have permitted defaults to rise over the last few years to curb construction inflation and force a repricing of debt assets.
Bailing out such a large company would make a bad precedent. But if Xi lets the Chinese real estate sink, the crisis that will follow will be several order of magnitude worse than Lehman Brothers.
Confidence in financial markets (and in the central government) is key for the survival of the Chinese establishment. At $62 tn, the Chinese real estate bubble is not only the largest asset class, but also the largest Ponzi ever.
So you'd think that Beijing would come to the rescue? It may be too big and too late for the Chinese government to help already.
References