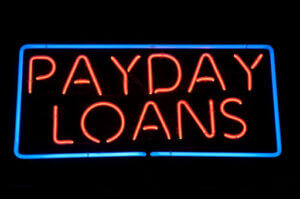 Buy Now Pay Later (BNPL) is the new form of consumer credit. 1 in 3 US consumer already uses it and the industry is growing at an estimated 40% rate. It will alter the 8 Tn payment market.
This long-form review explains what it is, who uses it, what the business really is about, and the questions this new funding business raises.
What is Buy Now Pay Later
Here are the main features of BNPL:
The consumer

deploys BNPL at the payment step

of his/her online purchase with the help of an app. You can actually deploy it in

physical stores as well

by scanning a bar code. The operation is seamless, convenient, transparent, and flexible.

The app pays for your article

to the shop, and you pay back the company with either one of these two forms of credit:

Your purchase is

split into four payments

. You pay the first yourself immediately. You pay back the BNPL company in a few (three) equal installments, typically every two weeks. There is no interest, as long as you pay on time.

Example

: Your article is $200. You pay $50 immediately, and $50 every two weeks to BNPL, interest-free.

 You select

a more typical type of financing

, with a rate and a schedule. That approach is usually selected for larger amounts and longer payback periods (3-36 months)

The financing

amounts can be very low

– less than $100.
There is

no interest

in the installment payment approach… in appearance. This is actually a high-rate lending business. More later.
Current offers:
Here are the offers from the main providers. As you see, the zero-interest credit is only if you fulfill your payment.
Bill Me Later / PayPal Credit:

APR of ~24%

(as of 04/01/2020), with

no interest

for purchases below $100 and less than 6 months. If you miss your payment, you are charged

interest on the whole amount from the start date

, as well as a

charge of up to $39 per payment

.
Afterpay / Clearpay / Laybuy: the Australia-based company charges no interest, but there is an

initial deposit

. If you fail your payment, there is

no interest

, but you will be charged a

late fee, of up to 25%

of your purchase amount. They may charge your credit card and will

report the event to credit bureaus

.
Affirm offers personal loans over 6-12 months at a

typical 15% APR

. The rate can go

as high as 30%

, depending on your creditworthiness. There are

no late fees

. They will impact your credit if you are late, but also if you are on time.
Klarna offers

interest-free

loans over a few installments, but you will be charged

a fee of up to $7

if you are late. This Swedish-based company may charge your credit card and close your account, as well as report the event to credit bureaus.
FuturePay offers revolving credit, with a

$1.50 charge

every month f

or every $50 you carry

(ouch), with minimum monthly payments. There are

late fees

if you miss your payment of up to

$38 per payment

.
Quadpay and Sezzle are US-based. They both charge

zero interest

but will charge a

late fee of $21

per purchase or

$10 per payment

.
A few statistics on the BNPL business
The main providers are

PayPal Credit

(formally Bill Me Later),

Affirm

,

Klarna

, and

Afterpay

(July 2020 survey of users, source The Ascent)
Most people use BNPL services to

avoid paying credit card interest

or buy something, not in their budget. Electronics are the most common type of item to buy with BNPL. Many users can't have or do not want to have a credit card. The main reason for using BNPL are:
BNPL grew significantly through the

COVID crisis

when retail went online. Christmas 2020 was a big event.

Big banks are jumping in

; Goldman Sachs launched MarcusPay in April 2020. The loans are between $750 and $10,000, paid back between 12 to 18 months, with rates ranging from 11% to 26%.
Many

retailers are interested

in integrating such systems, considering the impact of COVID on many businesses. The process also reduces "sticker shock".
The current/expected

growth rate of BNPL is 40%/year

, according to the BBC. Some analysts believe it could reach $1 trillion of the $8 trillion payment market by 2025.
The borrowers
Those aged 35 to 44 are most likely to have used a BNPL service, while those over the age of 54 are least likely to have used one. 65% of BNPL users are millennials or Gen-Zs. Most users live in cities with a high cost of living.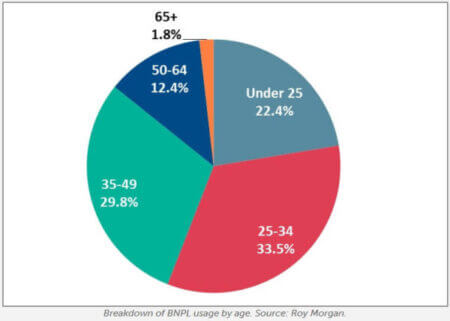 The main use for BNPL is electronics, clothing/fashion, furniture/appliance, groceries, books/movies/games.
Some industries are particularly appealing to younger generations, notably outdoor equipment providers, and the providers are pushing the financing approach.

BNPL users are less prone to credit card use

than the general population. They are

less well-off

. They face significant student loan debt.
According to a Marqueta study, BNPL users are slightly better educated than the population, generally married with children, while sex and income are correlated (lower-income borrowers are female)
Impact on credit scores
It seems pretty easy to see that the users of this payment process may not have the best credit score at the start. But the systems is making it harder on them either:
BNPL will rarely improve your credit, but it can hurt it.

The companies may not pull your credit at the start, but will surely report you if you are late in your payments.
You generally can't build your credit with these apps.

If you are late, the BNPL provider can close your account, and ask you to pay your balance immediately. If you fail,

debt collectors

will knock at your door.
Only 22.13% of people say they understand all of the terms and conditions of BNPL.

More than half of users say they don't understand or understand at all the terms

of the loans.
22% of users say that they have already been late with a payment or incurred late fees.
Mortgage lenders closely look at the presence of BNPL relations in loan considerations.
What's behind the curtain – the PEW study
The PEW Charitable Trusts conducted an extensive study on installment loan lenders. The study is already two years old (October 2018), but the results are very interesting. Please note that "loan installment lenders" are assumed to be close to BNPL in business and borrowers, but there is no study to confirm it.
Monthly

payments remain affordable

for 85% of the loans (aka 5% or less of income)
The

prices are 3-4 lower than payday and auto title loans

. Those lenders heavily rely on the borrowers in the worst conditions to being forced to renegotiate their loans. They also cannot spread their office costs on as many customers.
Recalculated all-in

APRs are much higher than disclosed

: 90% for loans below $1,500 and 40% above, against stated levels of 70% and 29%. The highest rate recorded was 367% on a $129 loan.
The difference comes from the

sale of credit insurance

, the fixed fees, and the financing of premiums on these extra costs. Those credit insurance have little benefits to consumers, and their price is difficult to assess. They can quadruple the cost of borrowing in some instances. Sometimes, they are automatically added, without the borrower's approval.
State regulations strongly impact the costs of this insurance:

Lenders charge the maximum fee allowed in their states

.
Those front-loaded fees

encourage lenders to refinance loans

, sometimes systematically.
Coincendatlly,

refinancing is frequent

: 4 out of 5 loans are refinancing of previous loans. They prolong indebtedness and increase the cost of borrowing.
Upfront fees increase the APR even further for borrowers who repay their loans early.
What's behind the curtain – a few more facts
Retailers pay a fee to the BNPL provider

of 2.5% to 4% of the purchase. Credit cards also charge in this way.

Banks have little to no incentive of getting into the BNPL business

– it will cannibalize their credit card business. Well, all mutual fund managers were forced into the ETF business as well, and the earlier they jumped, the better they were.

BNPL lenders are highly dependent on merchants

accepting their services, while merchants have little incentive to add a long list of BNPL providers. The market will quickly become saturated for BNPL providers.
Some lenders may have few merchants, adding a

concentration risk

. Peloton represents 30% of Affirm's revenues. in the third quarter of 2020.
Bad debt expense is the number one expense of BNPL lenders – with 30% of expenses. An Australian study indicates that ESOP is the second largest expense (?!). Some CEOs are paying themselves largely, it seems…
BNPL lenders are exposed to

merchant risks

– illegitimate merchants may request payments for fictitious operations. They are also exposed to

consumer fraud risks

– fake users, who get the benefit of a purchase that will never be paid off.
What happens if you return the article to the retailer? You'll have to negotiate the repayment process with them. You will have to make your payments until the article is paid back.
The BNPL

interest-free loans are a lure

. The loans based on standard loans ard already high rates. They turn into very high APRs when late charges and interests are added into the equation. Worse, interests may be charged retroactively, back to when the purchase was made.
Unsurprisingly,

BNPL users have bad credits and often fall back on the payments

.
As a result, their credit standing often falls way further down. Some

credit card issuers are so alarmed

, that some are banning the use of BNPL as payment for BNPL charges.
The loans are declared as

unsecured

, allowing a consumer from opening accounts at multiple providers. This being said, lenders often ask for a

car title or a furniture appliance to be posted as collateral

.
As of February 2021, Klarna is considering an IPO, with an indicated market value of $10.6 bn. It has raised $2.1 bn so far. Afterpay is already listed and worth AUD 41.8 bn ($31.8 bn).
in late 2019, BNPL lenders started to securitize their loans on a revolving basis. The price discovery was difficult, considering that both the business and the issuers are new to the securitization process. Tranches of the ZIP AUD 500m issuance of December 2019 have rates ranging between 2.5% and 8%. Side note, the high credit risk is not born only by these lenders.

Issuers may choose their clients too

. Affirm is more demanding, and its delinquency rate is actually lower than credit cards (1.1% vs 5.7%, Figure from Nov 2020)
BNPL regulations, or lack thereof
Well, because the technology and the use of BNPL are so new, there are barely any laws or regulations to frame the activity.
Consumer advocacy groups are calling on regulators to protect consumers. They point to the lack of regulation, the lack of risk wording, the use of media influencers to attract young individuals…
Some regulators (UK) have started to crack down on BNPL offers. They will notably enforce that BNPL providers conduct affordability checks on their consumers, as well as offer a way to escalate complaints.
Not sure where this will go, but the SEC's priorities for 2021 include consumer protection and FinTechs. It's fair to say that BNPL deserves to fall under their scrutiny.
Sources: