"Pandora papers". The name will make thousands of influential people shake in their boots. The new trove of private financial records is the largest leak ever.
The treasure chest throws light on the world of hidden offshore accounts. Again.
It is early to see the changes that this leak will have on the worlds of international finance and politics, but there is definitely enough to attract attention.
A few numbers
The unknown leakers have shared 2.9 terabytes of data – over 11.9 millions files to the International Consortium of Investigative Journalists (ICIJ). That data dump is so big, that it took 600 journalists from 150 media companies and 117 countries and more than two years to pore over the data.
By comparison, the 2017 Paradise papers had 13.4 million files and 1.4 Tb. The 2016 Panama papers had 11.5 million documents (2.6 Tb), all coming from a single law firm, Mossack Fonseca.
The documents covers 14 offshore providers in 38 jurisdictions, of which Anguilla, Belize, Singapore, Switzerland, Panama, Barbados, Cyprus, Dubai, the Bahamas, the British Virgin Islands, Seychelles and Vietnam.
Each of these 14 companies had its own way of organizing documents (by clients, by company…). The file had various data structure (pictures, pdfs, excel, excels printed into pdfs…) and languages (English, Russian, French, Arabic…). Some were hand-written. Only 4% of the documents came in structured form (database, spreadsheets, tables).
The service providers
The firms whose data has been leaked are:
Remember their names. They may disappear soon…
The beneficiaries
The leak covers 27,000 offshore accounts and companies and 29,000 beneficial owners – twice the number of the Panama papers.
3,700 and 4,4000 of these companies/owners are Russian.
For some reasons, there were over 200 trusts created in the US, ranging between $67,000 to $165 m, for a total of $1 bn. The individuals in question have an aggregate fortune valued at $600 bn in 2021, some of it tied to people and companies accused of human rights abuses and other wrongdoing (Washington Post). It indicates that the US is becoming a tax haven. South Dakota and Nevada in particular have adopted financial secrecy laws that rival offshore jurisdictions.
336 politicians and public officials are named, some campaigning on transparency.
90 of them  are Europeans. There are 46 Russian oligarchs and 133 multi-millionaires.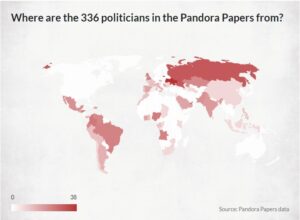 You will find among the famous:
Abdullah II (

King of Jordan

), who amassed $100m of properties from Washington to London and Malibu.
Ilham Aliyev, the

Azerbaijan presiden

t, who has transacted GBP 400m of properties in the UK – some with the Crown Estate.
Andrej Nabis, the

Czech prime minister

, who is on

reelection next week.

He has acquired a $22m chateau in the South of France, which he forgot to mention in his required asset declarations.
Dominique Strauss-Kahn

, the former IMF head. He already has his share of scandals. It's just one more.

Tony and Cherie Blair

, who saved GBP 312,000 in property taxes,

without any apparent fraud

.
Volodymyr Zelenskiy, the

Ukrainian president

, who was elected in 2019 on

pledge to clean up his country's corruption

.
The

Kenyan president

, Uhuru Kenyatta, has portrayed himself as

an enemy of corruption

. He stated to the BBC in 2018 that "Every public servant's assets must be declared publicly so that people can question and ask: what is legitimate?". Weird that he is in the list for $30m of hidden assets, right?
Other VIPs include:
Raffaele Amato (Italian Camorra mafia boss),
Claudia Schiffer,
Julio Iglesias and
Shakira.
Interestingly enough, you will not find Vladimir Putin in the leak, although numerous close associates do appear. In case you didn't know, Vladimir is said to be the richest man in the world – through third party straw men.
Two of his ex-romantic partners are in the list though. One somehow had enough money to buy a flat in Monaco, right after she gave birth to a baby girl. The Washington Examiner indicates that she has $100m in assets, despite a poor upbringing. Hmm. Obviously, she has found the pot of gold at the end of the rainbow.
You will not find the Jeff Bezos and Elon Musk of this world, either. That maybe because they pay such low taxes in the US, that they don't need to hide their income offshore. Or that they use different tax heavens (Cayman Islands).
The content
The papers cover entities registered by these 14 providers between 1971 and 2018 .
That period is long enough to see how assets moved as investigations and rule changes came into effect.
For instance,
500 companies previously clients of Mossack Fonseca were followed. 113 changed registered agents just to Alcogal (aka Aleman, Cordero, Galindo & Lee).
Trident Trust (actively looking to manage such assets) saw 759 other companies considering registering to them after Mossack Fonseca got in trouble. Interesting marketing study…
There were SAR (suspicious activity reports) filed against these transactions. Most SARs were filed after authorities and journalists discovered the issues.
The transactions involved many attorneys previously in government positions, in agencies including justice departments, tax offices, the EU Commission, and offices of heads of state.
Some documents refer to looted art pieces.
The first reactions
The leak has just been made public. At this stage, people are mostly asking their leaders why they are involved in hidden offshore entities.
Here are a few replies
The

Jordanian

palace said in a statement that it was "no secret that His Majesty owns a number of apartments and residences in the United States and the United Kingdom. This is not unusual nor improper." They also indicated that the costs were funded personally, not by the state. DLA Piper, his law firm, confirms.
This is a bit of an embarrassment, since his half brother, former Crown Prince Hamzah, accused the "ruling system" of corruption and incompetence earlier this year. The king then claimed he was the victim of a "malicious plot," placed his half brother under house arrest and put two former close aides on trial.
The

Kremlin

questioned the reliability

of the ICIJ information, and said it had seen no evidence of hidden wealth among Russian President Vladimir Putin's entourage in the leak. Putin insinuated that the "provocation" was

supported by US Intelligence

to discredit the Russian financial system.
This being said, Jurg Wissmann, the Swiss attorney representing Putin associates and who set up at least 150 companies through Alcogal, warned officers

never to store any of his clients' names on computer systems:

 "You are obliged to keep secrecy for our clients and to not make feasible at all a second Panama Papers story."
The Czech president denies any wrongdoing – the money was taxed when leaving the Czech bank. He labels the accusations as political shenanigans right before the election.
But mostly, the influential recipients have declined to comment.
Other politicians are jumping in as well, mostly with indignation:
Pakistan's opposition called on Prime Minister Imran Khan to order the named cabinet ministers and aides to resign and face investigation. His finance minister, whose is involved according to the ICIJ, denies any wrongdoing. Mr. Kahn tweeted that that he would recover the "ill-gotten gains" and investigate the citizens mentioned.
Sven Giegold, a

Green party European parliament member

stated that "the new data leak must be a wake-up call. Global tax evasion fuels global inequality. We need to expand and sharpen the countermeasures now."
Oxfam applauded, adding in a statement: "This is where our missing hospitals are. This is where the pay-packets sit of all the extra teachers and firefighters and public servants we need. Whenever a politician or business leader claims there is 'no money' to pay for climate damage and innovation, for more and better jobs, for a fair post-COVID recovery, for more overseas aid, they know where to look."
Sherine Ebadi, a former FBI officer who served as lead agent on dozens of financial-crimes cases and is now an associate managing director at Kroll, said that "The offshore financial system is a problem that should concern every law-abiding person around the world." Pointing to offshore accounts and asset-shielding trusts, which

play in drug trafficking, ransomware attacks, arms trading

and other crimes, he added that "these systems don't just allow tax cheats to avoid paying their fair share. They undermine the fabric of a good society."
Gerard Ryle, the ICIJ director, expects the Pandora paper to have more impact than the Panama papers, but – don't hold your breath- he's not hoping for profound reform:
"When you have world leaders, when you have politicians, when you have public officials, all using the secrecy and all using this world, then I don't think we're going to see an end to it."
Offshore banking, which has some natural and honest benefits, has not suffered from the Panama papers leak. It is and will remain a lucrative industry. What will it take?
References