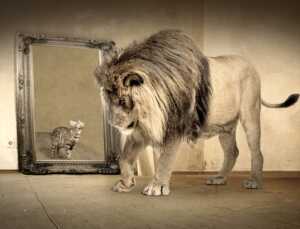 The first litigation of the GameStop saga is out. It is a class action against Keith Gill, the main WallStreetBets sponsor, and his employer MassMutual. And – surprise! – Mr. Gill isn't exactly Robin Hood. He is actually an experienced broker-dealer with multiple trading, analysis and supervisory licenses! A true Wall Street lion.
Let's start with the 'fun' facts:
Keith Gill started

building a long stock & call position in GameStop a year ago

.
Using the nicknames 'Roaring Kitty' on YouTube and 'DeepF***ingValue' on Reddit, he created

the image of a rebel live blogger

and active day trader, akin to a modern Robin Hood fighting the villains of Wall Street. Regular blogs, 80+ videos, hundreds of tweets… the whole educational stream of research and day trading.

He recommended the purchase

– and holding – of GME to an increasingly large audience,

initially as a value investment (?)

, then as a '

revenge on the hedge fund short sellers

'.
By

publishing the value of his portfolio every month

, he demonstrated how much impact his audience had.
The $ millions of his paper gains started to pile on, in effect

inciting other traders to buy – and hold – similar positions

.
The YOLO (you live only once) culture of the group WallStreetBets incites traders to

concentrate their savings into risky bets

, like his.
On January 22nd,

when the stock reached $65, and Mr. Gill uploaded his last video to thank his viewers for the work accomplished

. "What a ride. Cheers, and thank you to every one!"
Five days later, he published for the last time the value of his portfolio. The stock was now worth $347.51, and

his GME portfolio was worth $48m

.

The post had 200,000 likes

.
IMO, it will be hard to prove that he didn't pump up the GME stock…
Now, the less jovial facts:
The lead class action plaintiff,

Mr. Christian Iovin, was unaware of Mr. Gill's media blitz

.
Mr. Iovin

sold calls January 2021 calls, using $200k of personal collateral

. The

stock was below $100

at the time.
When the stock reached ~$300, Mr. Iovin was

forced to buy back his short delta exposure

. The quantities of options and the amount of the losses are not disclosed, only discribed as "

substantial losses

". (writer's note: there is more than just delta. The vol exploded to 300-400%, and these were 1 year options. Yes, probably substantial amounts…)
Where it becomes interesting:
Mr. Gill is

not only a CFA charter holder, but he is a registered and licensed broker dealer too

.
Keith Gill has the

Series 7

, the

series 63/65

(investment advisor), the

series 3

(futures and options), but

also the series 24 (principal!)

. Needless to say, the "I didn't know" excuse will never stand in court. He is employed and perfectly qualified to understand and explain what he does, as well as to monitor such communications.

He's not a kitty, but the perfect Wall Street lion!

 A true and proper investment professional.
Any FINRA-regulated registered agent is

supposed to abide to securities law

, of which:

Rule 2010: "

high standards

of commercial honor"
Rule 2020: "

no induction of manipulation, deceit

…"
Rule 2111: an agent can only recommend a security that is

"suitable"

for the recipient of the communication.
Rule 2210: various restrictions of communication – including social media – based on "fair dealing", "good faith", "sound basis", "no exaggeration"….
Rule 3210:

prohibition of accounts not monitored or permitted by the employer

.

And since Mr. Gill was employed by MML, a MassMutual subsidiary, at the time of the facts,

MassMutual becomes liable for its employee's conduct

. It was MML's responsibility to monitor, supervise and moderate Mr. Gill's communication and actions.
Unsurprisingly,

the class action targets both Mr. Gill and MassMutual

.
What probably will happen:
There will be

more lawsuits and class actions

, no doubt. Attorneys at many firms are probably preparing claims, which will become public soon.

Mr. Gill and MassMutual will combine their defense

… for now.
There is little doubt that

the plaintiff is suing also MassMutual because of the firm's much larger pocket

. Hedge funds have lost billions on the way up. Retail traders have probably lost at least that much on the way down in aggregate. There's no way that 

Mr. Gill's paper gains of $48m would ever cover for such losses

, even if he had realized them by selling his shares.

He may spend his entire gains just in legal fees

(not in ice rink… see his interview in the WSJ)
We haven't heard anything from the defense. They may have a trump card, or maybe a very different story…
Long-term outcomes
It's too early to talk about outcome. The legal opinions are divided already; you notably have to demonstrate 'malevolent' intent to prove a pump-and-dump stratagem. But we can still ask a few questions:
How come

MassMutual has let an employee run such a public activity

without knowing or intervening? Was the fox guarding the hen house?
Broker-dealers and financial institutions will see the painful lesson that Mass Mutual is about to go through.

How long before a turn of the screw in social media and account monitoring is implemented across the street

?
Can we expect a change in regulation? Well, "

you can't legislate stupidity

" and the regulators will have a hard time teaching a crowd not to buy expensive stocks. There will probably be some language to regulate or punish malevolent leaders, but "malevolent" intent is key word here.

Keith Gill is to testify this Thursday

before the House Financial Services Committee

, along with executives from Reddit, Robinhood Markets, Citadel LLC and Melvin Capital Management. He must have lawyered up already.

What will he say in his defense?
The first amendment may allow you to "shout fire in a crowded theater"… but you may end-up with a manslaughter charge if you try. This lawsuit is probably the first manslaughter charge after someone shouted "Squeeze!" in a crowded market!
The case is Iovin v. Gill, 21-cv-10264, U.S. District Court District, District of Massachusetts (Springfield). The claim is here. Plaintiffs are (well) represented by  Thomas Sobol, Steve Berman and Reed Kathrein from Hagens Berman Sobol Shapiro, E Powell Miller and Sharon Almonrode from The Miller Law Firm, as well as Honigman LLP.