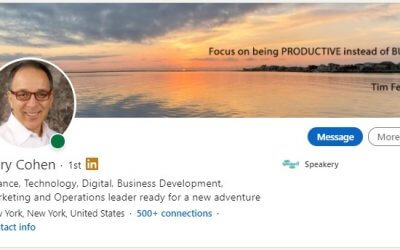 My grateful appreciation to a new friend/my friend Gary Cohen (https://lnkd.in/gzE3Nvj) for his time, his efforts, as well as his top digital media skills who helped me recreate the Navesink International website and optimized it from an old-world static site into a new world WordPress site. Gary brings together a 1st class financial background, well-honed management skills, professionalism, and true digital optimization/social media know-how. Thanks to his expertise and continued efforts, Navesink International now has a dynamic & flexible website (https://lnkd.in/eq8vGgP), as well as a blog (this post refers to / is on the blog), where I will share my thoughts and observations.
It has been a pleasure to work with him during the many late evenings of this journey, and we both look forward to finally meeting in person when COVID times end. If you are looking for an experienced leader to optimize or digitize your financial services business, reach out to Gary. I am sure you will be happy you did.
Finally, you can subscribe to the Navesink News Blog to receive email notifications of new posts so you never miss out.
read more