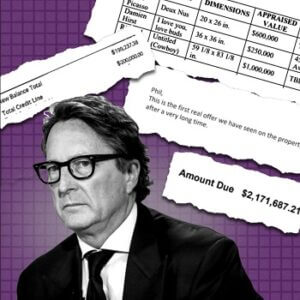 You always see the glitz around hedge fund portfolio managers – the parties, the mansions, the cars and the boats. It's not always like that. For every Jim Simmons or George Soros, there are dozens of unsuccessful managers. And there is another tail to that gaussian distribution of quality.
This WSJ article reveals quite a story of riches-to-rags. From $2bn of personal wealth to endless debt.
There's definitely some irresponsible spending ($2 million in unpaid rent, $35,000 of limousines…), as well as some blame (paying his personnal taxes with teh fund's money, theft, price manipulations and illicit trading fraud charges, a rare settlement with the admission of guilt… see his broker check and his Wikipedia page) in the life of this High Yield hedge fund honcho.
You do not want to be in those shoes. If there has been glamor, there are huge pains now – regulators, creditors, and endless lawsuits.
And there are probably many investors with even more valid frustration … Any investment requires solid due diligence.