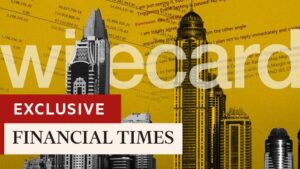 Jim Singh, am executive committee member of the Alternative Investment Management Association had an interesting summary of the Wirecard scandal.
The company was a

credit card payment processor

, and also the answer to California's Silicon Valley.
In June 2020,

Wirecard was admitted into the Dax, at double of Deutsche Bank's valuation

, before being quickly kicked out, because of a major scandal.
It turns out that

the company was created by money launderers

for the purpose of laundering criminal proceeds.
The company survived for two decades. Its admission to the Dax actually demonstrates "The abject failure of Wirecard's auditors and the German regulators to do one thing: their jobs."
In 2002,

Germany created BaFin, a regulator to monitor financial frauds

, in the wake of the Enron Scandal, but

allocated only €6 m as a budget

, enough for 14 employees.
When financial analysts (short sellers) reported to BaFin the likely wrongdoing of Wirecard,

the regulator actually turned against the whistleblowers and opened investigations into market manipulations

.
BaFin also defended Porsche and Volkswagen in their own respective scandals.

Wirecard' auditors – EY no less – never detected any malfeasance, for decades.

The non-exec directors of the board never saw any malfeasance either

.
The story only came to light because i

nvestigative journalists

came out with the research (below) to confirm the malfeasance. The story is worth of the best spy novels – expensive attorneys, Russian connections, slush funds, fake surveillance stories, threats and many other treats.
Worse, the

BaFin regulators have survived the scandal and kept their jobs

.
Fraudulent executives proceedings in their crime for years, retaliating against whistleblowers, with the support of the regulator, in a major developed country. What worse could you imagine?
That it happens also here. It would never happen, right? Your thoughts?