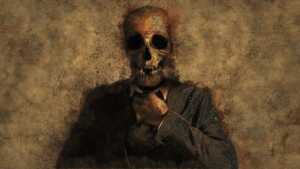 The information is still a bit sketchy, but Infinity Q may be the new variance swap skeleton in the closet.
What we know so far:
Infinity Q is a $1.8 bn fund based in NY

and incorporated in Delaware, which

trades variance swaps

. The firm started in May 2014.

Its founder is James Velissaris

, 36 yo, who

worked for Wildcat Capital Management

, the family office of billionaire investing titan David Bonderman who founded TPG.

Velissaris managed the same strategy in both firms

.
The firm announced on Monday that

the U.S. Securities and Exchange Commission is probing whether Velissaris incorrectly valued complex derivatives

. The SEC has approved a request to

halt redemptions

until the fund is properly valued and the

firm liquidated

.

Leonard Potter is now managing Infinity Q.

Mr. Potter is the firm's non-executive chairman of Infinity Q and the president & CIO of Wildcat Capital Management,.

Velissaris is on administrative leave

. His LinkedIn profile is deactivated. So is the firm's website (only the official announcement shows). Velissaris owns 75% of the hedge fund.

His attorneys deny any wrongdoing

.
The firm's latest fair value is $1.71 bn, with $449 m in swaps (26% of AUM).

In June last year, Infinity Q announced a positive performance of 5.63%

for 2020Q1, while all the other similar funds had lost money.
Texas Municipal Retirement System and State Teachers Retirement System of Ohio are investors of Infinity Q. One of the sub-funds is probably linked to Lincoln Life.
U.S. Bancorp is the fund's admin. EisnerAmper is its accountant.
Our previous note on Malachite, also a NY hedge fund, explained how the fund managed to blow up its entire investors' AUM $650m on variance swap during the same period of February / March last year.
Credits
Credits to Miles Weiss at Bloomberg for her article below.
Credits to Alicia McElhaney and Leanna Orr at Institutional Investors for their own story Months Before SEC Investigation, Infinity Q's CIO Touted Strong Performance