Robin Hood is alive and well. He has left the dark forest of Sherwood for the spotlight of social media and financial markets. Here are some of the many characters of the play.
Pestilence and famine are ravaging the land. The unemployed and impoverished are suffering. Should the serfs be free to roam the land of the free? Should they listen to the monarch or to the rebel for find their sustenance? While most toil at their labor, mutineers take up arms and rebel. While freedom fighters walk to the capital/Capitol, disrupters go after the rich.
But do they really understand everything? Here is Little Jane, a very nice lady with a big heart no doubt. Unfortunately, her understanding of short selling highlights why so many professionals are alarmed about the current militant epic. The in & out of fundamental investment and the risks of purchasing a high-price stock might not be her forte, but she believes in the fight.
Game Stop and Hedge Funds Explained by a Normal Person (@avalonpenrose) so you can Understand from funny
Keith Gill is the Robin Hood of Robinhood

, the slayer of hedge fund titans. He is the redditor and youtuber who initiated the GME wild surge. In today's remake, He has built a large long position in GME before going out on social media to advertise his analysis, which many followed. He has made dozens of millions in the fight, and has recently confided to the WSJ: "I always wanted to build an indoor track facility or a field house in Brockton. And now, it looks like I actually could do that." Stealing from the rich and Giving to the poor, he?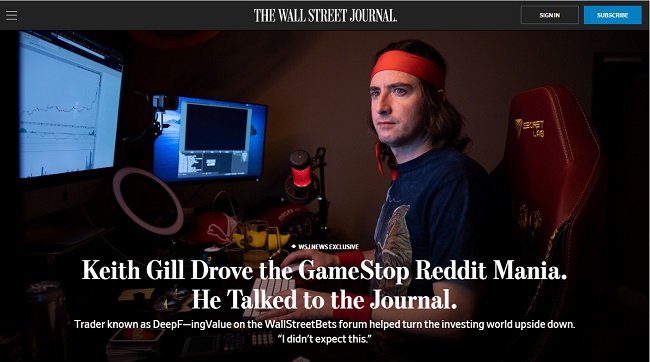 Now, I'm not a lawyer, but that surely doesn't fit in the law of the land. Wouldn't buying stocks & stock-options, recommending them to the public and selling them, fall into the "pump-and-dump" category? The legal opinions are split on this one, as prosecutors/plaintiffs would have to demonstrate "wrongful intent", "deception" or "spoofing". Fun is not illegal.
Here comes the Sheriff of Nottinghamshire. Jacob Frenkel, former senior counsel at the SEC and current Chair of Securities Enforcement at Dickinson Wright, has made some interesting comments in a CNBC interview: "This is a kids' gaming stock that needs adult supervision". Mr. Frenkel believes that the SEC is likely to start an investigation into possible manipulation, and should "look into regulating message board free speech". But is he really the bad guy?
But who are the Good, the Bad and the Ugly in this modern remake? Is our revolutionary Robin Hood a hero or a heretic? You be the judge.
An initial post on the situation and other facts is available at this link. Credits to Julia-Ambra Verlaine and Gunjan Banerji for the Wall Street Journal article.